Ultra Deep Geothermal Energy
To meet the industrial heat demand in a sustainable way it is necessary to extract geothermal energy from greater depths than has been done so far. Compared to conventional deep geothermal energy, for Ultra Deep Geothermal (UDG) energy we are looking for much higher temperatures of at least 150°C. Such high temperatures are not feasible for the currently existing geothermal plants in the Netherlands, but for industrial application and the production of electricity values of 150°C and more are essential.
Lower Carboniferous

In the Netherlands the average geothemal gradient is about 31°C per kilometer. Therfore, for UDG we need look for reservoirs at a depth of at least four kilometers. A promising reservoir at these depths are the limestone layers of the Lower Carboniferous. This rock formation is currently seen as the potential reservoir for UDG application.
T&A Survey's non-proprietary study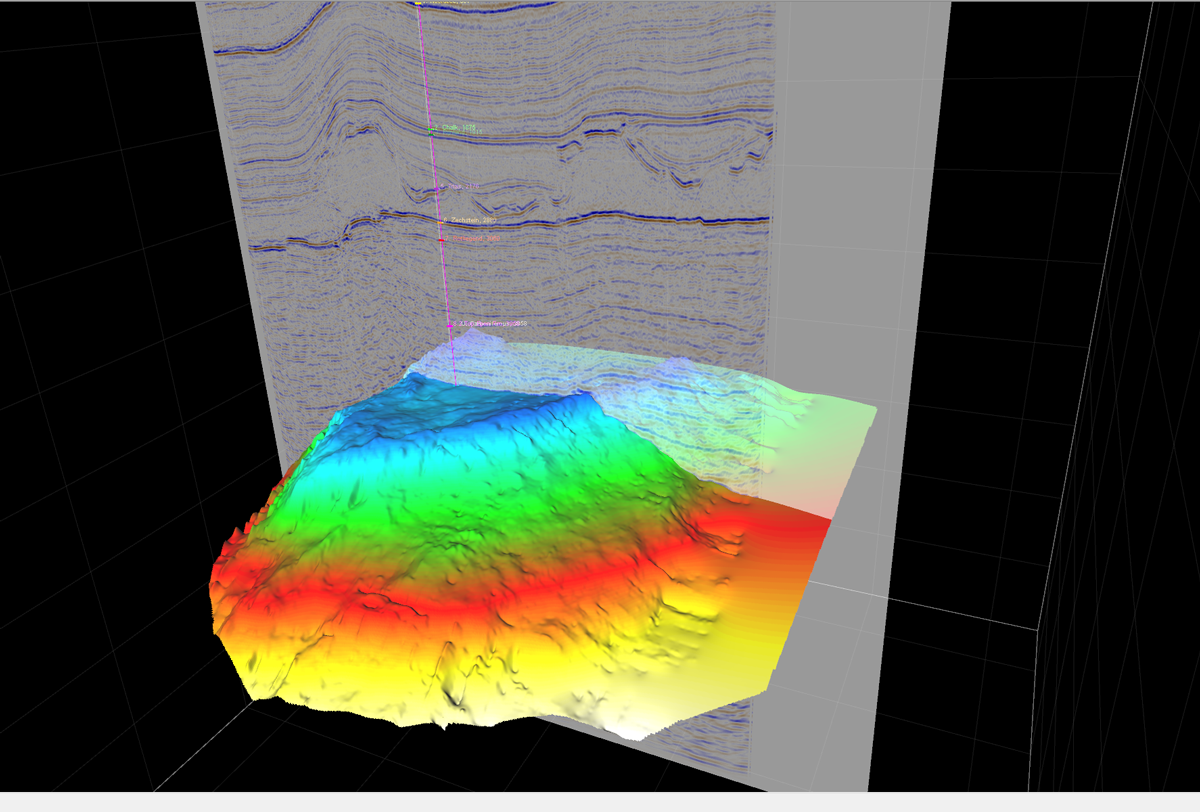 T&A Survey has done research to the potentials and risks of Ultra Deep Geothermal in the Netherlands, focussing mainly on the Lower Carboniferous. Using seismics, borehole information and literature, we developed a unique spatial insight into the presence of layers of potential reservoir rock at UDG depths in the Netherlands. In addition, we performed a petrophysical analysis in order to determine the quality of the reservoir. Based on the results and the risk assesment, a detailed map of UDG potential has been developed. With what we have learned form the research, we will be able to fulfill an advisory role in future UDG project. Pleas
contact
us for more information!

Green Deal

The Dutch government, research institutes and seven business consortiums on June 19th 2017 signed the so called
Green Deal Ultra Deep Geothermal Energy
, stating that 30% of the industrial heat demand can in the future be met by UDG. This is an important step towards mapping the UDG potential in te Netherlands and lays the foundations for further development of the technology.
More information

If you want more information or have questions about this promising new technology, please don't hesitate to
contact
us.
Image:
carbonate platform at a depth of 4 to 5 kilometers in the Dutch underground.
Magnetotellurics (MT) is a good, low-cost alternative for deep seismic research. This makes MT a suitable first step in the research process for Utra Deep Geothermal Energy (UDG). With a relatively small (one tenth of the costs of seismic research) investment, the results of MT can predict the presence of a reservoir and whether it makes sense to perform further deep geophysical research. T&A Survey has vast experience in MT.

Mapping the deep underground

MT is a magnetic technique which determines the electical conductivity of the underground from the surface. This geophysical method can be applied for mapping the first kilometers below the surface.

Measuring principle

Magnetotellurics (MT) is an electromagnetic geophysical method for inferring the earth's subsurface electrical conductivity from measurements of natural geomagnetic and geoelectric field variation at the Earth's surface. Investigation depth ranges from 300 m below ground by recording higher frequencies down to 10,000 m or deeper with long-period sounding.
Application in UDG

Since MT has a greater depth range than seismic reflection, it is especially suitable for mapping deep geology in circumstances where seismic reflection methodes are not sufficient, as in detection of deep UDG reservoirs.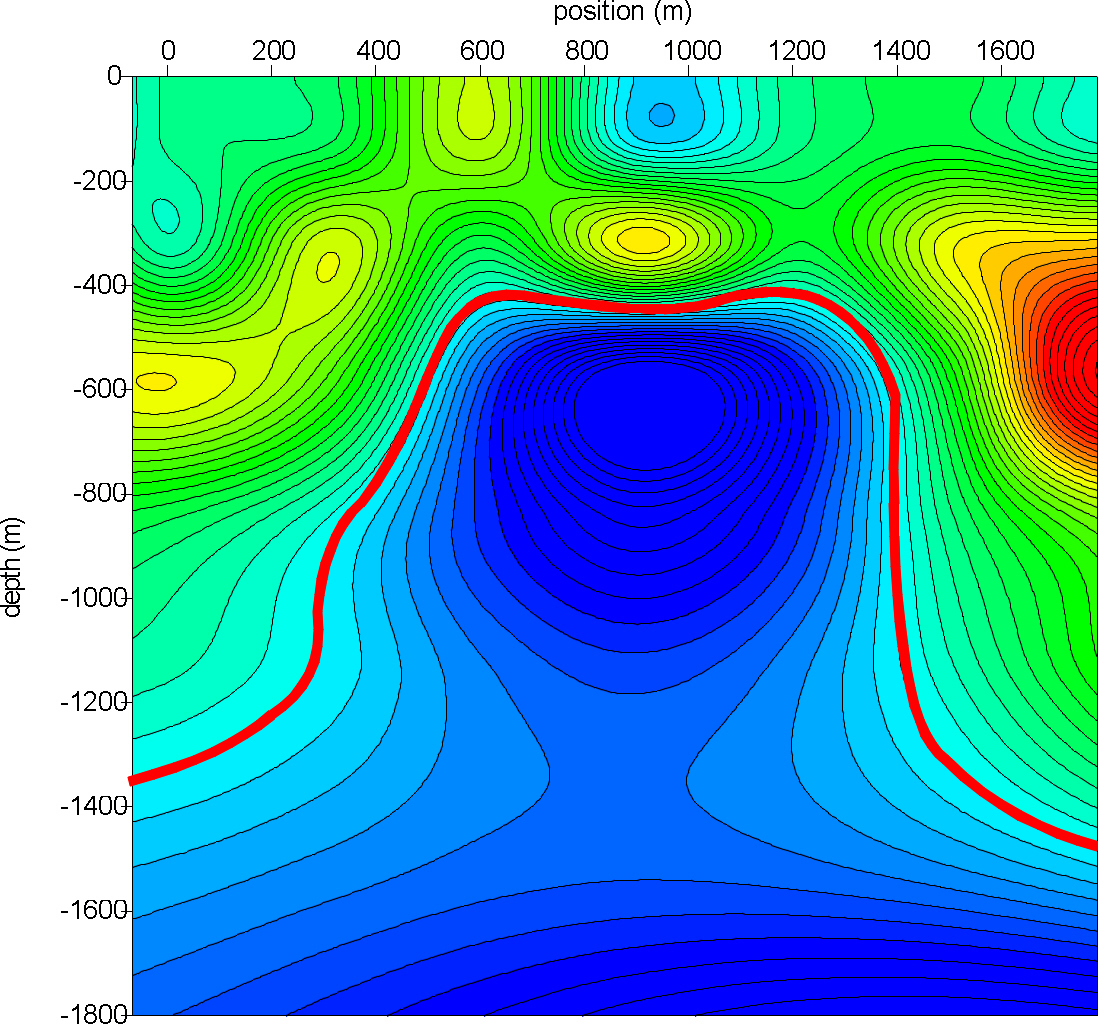 Example
The graphic shows te results of an MT survey of a salt dome at a depth of approximately 1.800 meters. The blue colors represent a formation with high resistivity compared to its surroundings. The red line in the grapic marks the 2 Ohm-m resistivity border, coinciding with the position of the salt dome. UDG reservoirs can be mapped in the same way using MT technology.

Oil and gas reservoirs in the Netherlands are typically located at depths between 2.000 and 3.500 meters, which is too shallow for UDG. Since the 1990s, in areas of interest for oil and gas exploration, 3D Seismic surveys using sound waves to visualize deep structures in the earths crust have been carried out. These so-called 3D (three dimensional) seismic surveys have the highest quality and coverage ratio.
Seismic re-processing
Until the 1980s, 2D seismic surveys have been carried out all over the Netherlands, but the coverage ratio and quality of 2D surveys is by far not as good . By re-processing these 2D (and also 3D) seismic data to the current state of the art, the quality of the data and its interpretation can be improved, creating a better picture of the horizontal and vertical distribution of geothermal reservoirs in the deep subsoil.
Deep seismic research
Groundwater reservoirs suitable for UDG in the Netherlands are situated at a depth of more than 4,000 meters. Only few oil and gas exploration wells have reached this depth. The same applies to seismic surveys, the investigation of structures in the deep subsurface using sound waves.
Due to their insufficient depth range, the available bores, 2D and 3D seismic results are not suitable to create an image of (very) deep UDG reservoirs. To obtain some certainty about the presence of UDG reservoirs, a very deep (> 4,000 meters) seismic survey must be carried out, possibly even following Magnetotelluric research.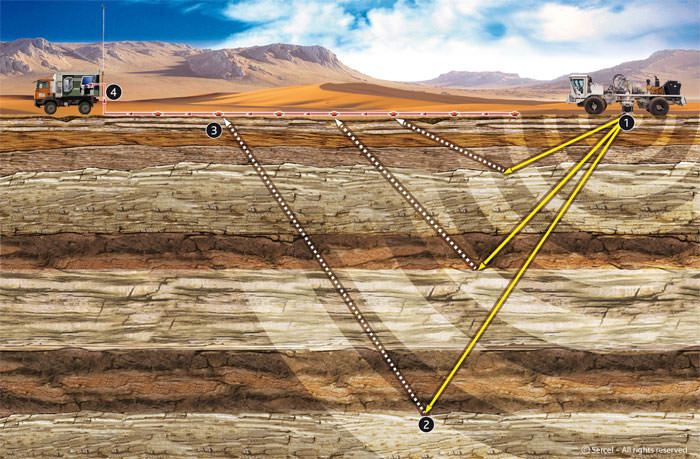 Preparation
For deep seismic surveys the preparation is crucial. It is very important that the research proposal is drawn up with expertise and care. In addition, permits and permission from local authorities an landowners must be applied for.
Services
T&A Survey can conduct the entire seismic survey. The field research will be commissioned by T&A and carried out by an external party. T&A can also carry out project management of the seismic survey, supervising an external party conducting the field research.
Experience
T&A employs exploration geophysicists with knowledge of all phases of seismic research. For AKZO Nobel we conducted the project management on seismic research into deep salt layers in the Twente region. In addition, we have carried out seismic research for many (inter)national clients: (re-) processing and analysis of 2D and 3D seismic data, seismic interpretation and time-depth conversion.